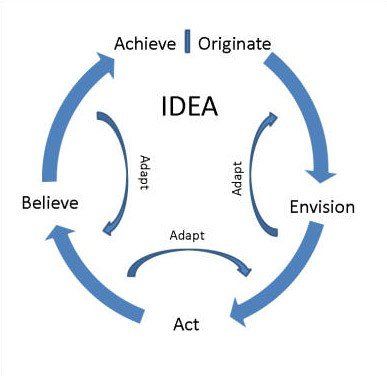 About the Idea Circle
"The Idea Circle helps make sense of how you turn your goals into achievements. It can help you organize your ideas, plans, and actions. You can use it to help you lose weight, start a business, create a new product, or become a sought-after speaker. Use it anytime, anywhere, for anything, but it will not magically jump from the page and accomplish things for you. It is a tool for your use. It will support and guide you while you take action along your individualized path to success.
If you are ready to take active, concrete steps to improve your life and the lives of those around you, use the Idea Circle to help you accomplish anything within your inherent capabilities. And almost everything is.
From this point of your life onward, there will be no simple hoping, no more floundering, and no more giving up on yourself or your dreams. You will achieve!"
– Author Dean Erickson from his book Act. Adapt. Achieve.
The difference between what we do and what we are capable of doing would suffice to solve most of the world's problems.
"Don't give up … Don't ever give up!"®